The 2021 Subaru Love Promise Community Commitment Award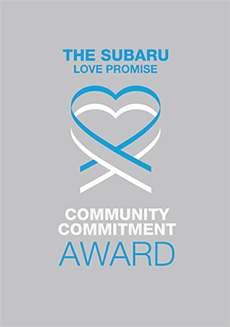 We've been nationally recognized for our dedication to our community and the Subaru Love Promise.
We're honored to receive the 2021 Subaru Love Promise Community Commitment Award. This award nationally recognizes Subaru retailers who are making the world a better place while demonstrating an outstanding commitment to supporting passions and causes in local communities. These efforts are focused in important areas such as the environment, community, health, education, and pets.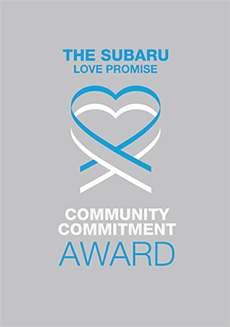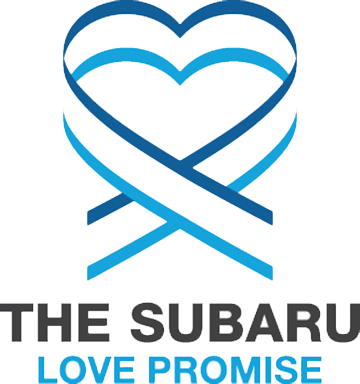 What is the Subaru Love Promise?
Subaru and our retailers believe in making the world a better place and the Subaru Love Promise is our vision of respecting all people. This is our commitment to show love and respect to our customers and to work to make a positive impact in the world.
How is Brown's Manassas Subaru dedicated locally to the Love Promise?
Our Love Promise can be seen in various partnerships with local charities and non-profits. We're grateful for the opportunity, not only to be a part of our community, but to serve it as well.
Prince Wm Cty Animal Shelter, Prince Wm SPCA, Homeless Animals Rescue Team (HART), Amb Pit Bull Rescue (APBR), Terabithia Animal Adv Grp, Bark 'N BubblesLeesburg, Brian's Pet Care
15th annual O.H.S. Scholarship Golf Tournament
Manassas Volunteer Fire Company
Love Promise Stories from Brown's Manassas Subaru
Subaru and Brown's Manassas Subaru believe in making a positive impact on the communities in which we live and work. We uphold that belief through our Love Promise Community Commitment. Every month, we select inspiring stories from customers and partners from around our area who strive to support our collective commitment and feature them here
A Boy Discovers a Love of Swimming, Thanks to You - Maria H
Brown's Manassas Subaru partnered with our Stonewall Park Swim Team (SPST) to sponsor a swimmer for the last few summers. After a summer of no swimming because of the pandemic, their sponsorship was much welcomed and needed. So many families in our community have been struggling. In summer 2021, the team used their donation to sponsor two brothers, ages 5 and 9, who had never swam before. The younger brother lit up in a huge smile every time he came to the pool for practice. His smile never faltered, even when he was in the water with our coaches learning to swim. Every time he came to practice, he rushed to the pool; he could barely keep still as his parents struggled put on his goggles. His joy was infectious. Without Brown's Manassas Subaru, this little boy who was born for the water might have never discovered his gift and his love of swimming. Thank you, Brown's Manassas Subaru, for bringing joy to our community and spreading love and kindness.
---
Brown's Manassas Subaru Helps Rehome Homeless Pets - Jeremy B
Brown's Manassas Subaru partnered with Prince William County Animal Control Bureau during the annual Subaru Love's Pet's Month in October. The retailer helped rehome 167 Dogs and Cats that entered the county shelter. A total of 72 Dogs and 95 Cats found new homes. This is not the first time PWCAS partnered with Brown's Manassas. A few months prior the two partnered during the month-long Clear the Shelter Campaign where the shelter was able to adopt out 141 dogs and cats. "We are extremely appreciative of the generosity and compassion Brown's Manassas Subaru continues to show to the homeless animals of Prince William County," said Jeremy Beale, Communications Manager at PWCAS. "We are always excited to partner with Subaru to help make a large impact on animals loves." While both Subaru and PWCAS look forward to Love Pet's Month returning in 2021, they acknowledge that there is always work to be done in rehoming animals. If you are interested in helping PWCAS find new homes for the animals under their care, visit www.petfinder.com/member/us/va/manassas/prince-william-county-animal-shelter-va331/.
---
SUBARU BAGS TO THE RESCUE! - Susan G
Brown's Manassas Subaru is definitely making a difference in the delivery of Meals on Wheels and Congregate Meals food to older adults in Prince William County. Rewind to March of this year when the senior centers were closed due to COVID-19 resulting in major changes in how the Meals on Wheels and Congregate Meals programs would deliver food. What was once a daily delivery and meal service became once-per-month. Now, enough food to cover 4 weeks is being packaged up which is a lot of food to handle for staff and clients alike. One call to Patrick Hall at Brown's and he ordered enough cloth Subaru bags for both of our senior centers to accommodate all the food for the month; and, he has pledged to keep us supplied as long as our need continues! Staff really appreciates the convenience and safety of having all the food in one container and being able to securely grab the handles. Clients love the brightly colored bags as well and the fact they are reusable. Thank you, Subaru, for sharing the love!
---
Rehoming the Homeless at the 2020 DC Auto Show - Jeremy B
The Prince Willliam County Animal Shelter partnered with the Subaru Love Pets initiative to help re-home shelter dogs during the 2020 Washington, D.C. Auto Show. Over the course of three days, the shelter was able to find eight out of 11 dogs new homes. The shelter wants to thank all the families at the event who took a chance on our shelter dogs and gave them the gift of forever homes. The shelter would also like to thank Brown's Manassas Subaru for their continued support, commitment and promise to ensure every shelter animal has a chance at adoption.
---
More books for our students! - Kara M
Thank you so much for your generous donation of books to our school, Jennie Dean Elementary! Our students were excited to see brand new books on a variety of different topics. It was fun to explore all of the non-fiction titles. Thank you for being a great partner in education with us here in the community. We look forward to more opportunities to partner with you for a great school year!
---
Happy to be loyal customers - Christopher S
My wife and I are on our third new car from Brown's Subaru. I was initially attracted to Subaru by a friend who had an old Outback Sport that had over 250k miles and was still going strong. I also wanted a car that achieved decent gas mileage while also providing us the ability to drive out on to the beach down on Hatteras Island where I'm from. These influences led us straight to the 2015 Crosstrek. When researching online, I noticed that Brown's Subaru had the car we wanted with the options we wanted in the color we wanted, so we drove down from Ashburn where we live to take a look. The experience of dealing with Brown's, and our salesman "B", was so stress-free and pleasant, we drove off the lot that day in our 2015 Crosstrek, and have been going back ever since. As of this writing, it's been a week since we drove home in our new 2019 Ascent, which is the third Subaru we've bought from Browns. They have earned our loyalty and repeat business by staying consistently pleasurable to work with, from the sales floor to the service department where I get all of our maintenance done. Brown's Subaru is hands-down the best car dealership I have ever developed a relationship with, and I applaud the entire team for making what has almost always been a stressful and unpleasant experience for me in the past into something I can look forward to and still feel great about afterward. As far as I and my family are concerned, Brown's lives up to their Love Promise Pledge and then some.
---
Brown's Manassas Subaru really shows the love! - Sue L
I just traded my 2017 Forester (which I also bought at Brown's) for a 2019 model, and the process was so incredibly easy. The people at Brown's are unlike people at any other dealership I've ever visited in my MANY years of car buying. They care about their customers! This is a place I actually visit when I don't need anything because everyone is so welcoming. Whether it's the sales staff, management, or the folks in service, they are all gracious & seem genuinely happy to see me. I couldn't be happier. I tell everyone I know to "Buy Happy!" Their community activities are also amazing, with their support for a wide variety of causes. $250 of my purchase was even contributed to a cause I selected, and Brown's matched that amount. It didn't cost me anything, and a non-profit benefitted. The people at Brown's always do everything they can to keep me happy!
---
Value Makes the Heart Happy - Margaret H
I recently purchased a 2019 Subaru Crosstrek from Brown's. This vehicle is certainly valued by me, but more importantly, I felt valued as a customer during the car buying process. Every member of the Brown's team that I interfaced with was courteous, professional and proud to be of service to me, the customer. Additionally, the Brown's pledge of support within the surrounding communities through charitable donations, as well as their pledge of commitment to customer satisfaction, truly warms my heart. With gratitude, I was and continue to be the recipient of a "Buy Happy" experience. Thank you and well done to the team at Brown's Subaru Manassas.
---
Jersey Day 2018! - Patrick H
This fall we held our first ever Jersey Day! Each Brown's Manassas Subaru team member was encouraged to wear their favorite team's jersey for the day. More importantly, each team member brought a small donation which was matched by the store. The money we raised was given to Cougar Elementary and Jennie Dean Elementary. Both schools right here in our community with Title 1 classifications. The purpose was to ensure every student had a healthy lunch. We've been working with our local schools for a few years and we thought this was an exciting way to help raise money and awareness to the fact that the subsidies these schools receive aren't always enough. It's important to us that we help where we can within our communities to make a difference and show our love and support for those around us. Big thanks to everyone who contributed to making a difference!
---
Brown's Manassas Subaru Helps Clear The Shelters - Patrick H
Brown's Manassas Subaru, and owner, Willliam E. Schuiling, teamed up with NBC4 and Homeward Trails Animal Rescue for Clear the Shelters animal adoption drive. Clear the Shelters is a community-driven, pet adoption event that is devoted to placing shelter animals with their perfect forever home. NBC and Telemundo owned stations pair up with animal shelters all across the country to host Clear the Shelters. This year, Clear the Shelters took place on Saturday, August 18 and over 76,802 shelter pets were adopted nationwide! Brown's Manassas Subaru has sponsored NBC4 Washington's Clear the Shelters event for the past two years. In 2018, Brown's Manassas Subaru partnered with Homeward Trails Animal Rescue for Clear the Shelters and helped 44 dogs find their forever homes! General Manager, Patrick Hall was proud to participate in the event and present donation checks to Homeward Trails and Animal Welfare League of Alexandria to help animals in need. Brown's Manassas Subaru thanks everyone who came out to the event on August 18 to support Homeward Trails Animal Rescue.
---