The 2021 Subaru Love Promise Community Commitment Award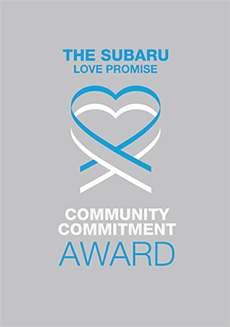 We've been nationally recognized for our dedication to our community and the Subaru Love Promise.
We're honored to receive the 2021 Subaru Love Promise Community Commitment Award. This award nationally recognizes Subaru retailers who are making the world a better place while demonstrating an outstanding commitment to supporting passions and causes in local communities. These efforts are focused in important areas such as the environment, community, health, education, and pets.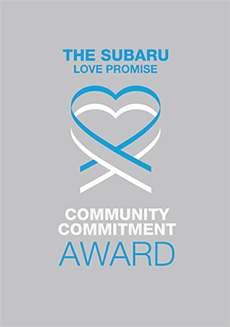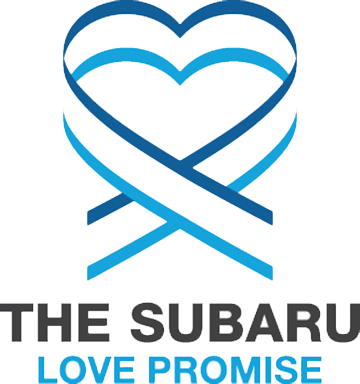 What is the Subaru Love Promise?
Subaru and our retailers believe in making the world a better place and the Subaru Love Promise is our vision of respecting all people. This is our commitment to show love and respect to our customers and to work to make a positive impact in the world.
How is Brown's Manassas Subaru dedicated locally to the Love Promise?
Our Love Promise can be seen in various partnerships with local charities and non-profits. We're grateful for the opportunity, not only to be a part of our community, but to serve it as well.
Prince Wm Cty Animal Shelter, Prince Wm SPCA, Homeless Animals Rescue Team (HART), Amb Pit Bull Rescue (APBR), Terabithia Animal Adv Grp, Bark 'N BubblesLeesburg, Brian's Pet Care
15th annual O.H.S. Scholarship Golf Tournament
Manassas Volunteer Fire Company
Love Promise Stories from Brown's Manassas Subaru
Subaru and Brown's Manassas Subaru believe in making a positive impact on the communities in which we live and work. We uphold that belief through our Love Promise Community Commitment. Every month, we select inspiring stories from customers and partners from around our area who strive to support our collective commitment and feature them here
Brown's Manassas Subaru Helps Rehome Homeless Pets - Jeremy B
Brown's Manassas Subaru partnered with Prince William County Animal Control Bureau during the annual Subaru Love's Pet's Month in October. The retailer helped rehome 167 Dogs and Cats that entered the county shelter. A total of 72 Dogs and 95 Cats found new homes. This is not the first time PWCAS partnered with Brown's Manassas. A few months prior the two partnered during the month-long Clear the Shelter Campaign where the shelter was able to adopt out 141 dogs and cats. "We are extremely appreciative of the generosity and compassion Brown's Manassas Subaru continues to show to the homeless animals of Prince William County," said Jeremy Beale, Communications Manager at PWCAS. "We are always excited to partner with Subaru to help make a large impact on animals loves." While both Subaru and PWCAS look forward to Love Pet's Month returning in 2021, they acknowledge that there is always work to be done in rehoming animals. If you are interested in helping PWCAS find new homes for the animals under their care, visit www.petfinder.com/member/us/va/manassas/prince-william-county-animal-shelter-va331/.
---
SUBARU BAGS TO THE RESCUE! - Susan G
Brown's Manassas Subaru is definitely making a difference in the delivery of Meals on Wheels and Congregate Meals food to older adults in Prince William County. Rewind to March of this year when the senior centers were closed due to COVID-19 resulting in major changes in how the Meals on Wheels and Congregate Meals programs would deliver food. What was once a daily delivery and meal service became once-per-month. Now, enough food to cover 4 weeks is being packaged up which is a lot of food to handle for staff and clients alike. One call to Patrick Hall at Brown's and he ordered enough cloth Subaru bags for both of our senior centers to accommodate all the food for the month; and, he has pledged to keep us supplied as long as our need continues! Staff really appreciates the convenience and safety of having all the food in one container and being able to securely grab the handles. Clients love the brightly colored bags as well and the fact they are reusable. Thank you, Subaru, for sharing the love!
---
Rehoming the Homeless at the 2020 DC Auto Show - Jeremy B
The Prince Willliam County Animal Shelter partnered with the Subaru Love Pets initiative to help re-home shelter dogs during the 2020 Washington, D.C. Auto Show. Over the course of three days, the shelter was able to find eight out of 11 dogs new homes. The shelter wants to thank all the families at the event who took a chance on our shelter dogs and gave them the gift of forever homes. The shelter would also like to thank Brown's Manassas Subaru for their continued support, commitment and promise to ensure every shelter animal has a chance at adoption.
---
More books for our students! - Kara M
Thank you so much for your generous donation of books to our school, Jennie Dean Elementary! Our students were excited to see brand new books on a variety of different topics. It was fun to explore all of the non-fiction titles. Thank you for being a great partner in education with us here in the community. We look forward to more opportunities to partner with you for a great school year!
---
Happy to be loyal customers - Christopher S
My wife and I are on our third new car from Brown's Subaru. I was initially attracted to Subaru by a friend who had an old Outback Sport that had over 250k miles and was still going strong. I also wanted a car that achieved decent gas mileage while also providing us the ability to drive out on to the beach down on Hatteras Island where I'm from. These influences led us straight to the 2015 Crosstrek. When researching online, I noticed that Brown's Subaru had the car we wanted with the options we wanted in the color we wanted, so we drove down from Ashburn where we live to take a look. The experience of dealing with Brown's, and our salesman "B", was so stress-free and pleasant, we drove off the lot that day in our 2015 Crosstrek, and have been going back ever since. As of this writing, it's been a week since we drove home in our new 2019 Ascent, which is the third Subaru we've bought from Browns. They have earned our loyalty and repeat business by staying consistently pleasurable to work with, from the sales floor to the service department where I get all of our maintenance done. Brown's Subaru is hands-down the best car dealership I have ever developed a relationship with, and I applaud the entire team for making what has almost always been a stressful and unpleasant experience for me in the past into something I can look forward to and still feel great about afterward. As far as I and my family are concerned, Brown's lives up to their Love Promise Pledge and then some.
---
Brown's Manassas Subaru really shows the love! - Sue L
I just traded my 2017 Forester (which I also bought at Brown's) for a 2019 model, and the process was so incredibly easy. The people at Brown's are unlike people at any other dealership I've ever visited in my MANY years of car buying. They care about their customers! This is a place I actually visit when I don't need anything because everyone is so welcoming. Whether it's the sales staff, management, or the folks in service, they are all gracious & seem genuinely happy to see me. I couldn't be happier. I tell everyone I know to "Buy Happy!" Their community activities are also amazing, with their support for a wide variety of causes. $250 of my purchase was even contributed to a cause I selected, and Brown's matched that amount. It didn't cost me anything, and a non-profit benefitted. The people at Brown's always do everything they can to keep me happy!
---
Value Makes the Heart Happy - Margaret H
I recently purchased a 2019 Subaru Crosstrek from Brown's. This vehicle is certainly valued by me, but more importantly, I felt valued as a customer during the car buying process. Every member of the Brown's team that I interfaced with was courteous, professional and proud to be of service to me, the customer. Additionally, the Brown's pledge of support within the surrounding communities through charitable donations, as well as their pledge of commitment to customer satisfaction, truly warms my heart. With gratitude, I was and continue to be the recipient of a "Buy Happy" experience. Thank you and well done to the team at Brown's Subaru Manassas.
---
Jersey Day 2018! - Patrick H
This fall we held our first ever Jersey Day! Each Brown's Manassas Subaru team member was encouraged to wear their favorite team's jersey for the day. More importantly, each team member brought a small donation which was matched by the store. The money we raised was given to Cougar Elementary and Jennie Dean Elementary. Both schools right here in our community with Title 1 classifications. The purpose was to ensure every student had a healthy lunch. We've been working with our local schools for a few years and we thought this was an exciting way to help raise money and awareness to the fact that the subsidies these schools receive aren't always enough. It's important to us that we help where we can within our communities to make a difference and show our love and support for those around us. Big thanks to everyone who contributed to making a difference!
---
Brown's Manassas Subaru Helps Clear The Shelters - Patrick H
Brown's Manassas Subaru, and owner, Willliam E. Schuiling, teamed up with NBC4 and Homeward Trails Animal Rescue for Clear the Shelters animal adoption drive. Clear the Shelters is a community-driven, pet adoption event that is devoted to placing shelter animals with their perfect forever home. NBC and Telemundo owned stations pair up with animal shelters all across the country to host Clear the Shelters. This year, Clear the Shelters took place on Saturday, August 18 and over 76,802 shelter pets were adopted nationwide! Brown's Manassas Subaru has sponsored NBC4 Washington's Clear the Shelters event for the past two years. In 2018, Brown's Manassas Subaru partnered with Homeward Trails Animal Rescue for Clear the Shelters and helped 44 dogs find their forever homes! General Manager, Patrick Hall was proud to participate in the event and present donation checks to Homeward Trails and Animal Welfare League of Alexandria to help animals in need. Brown's Manassas Subaru thanks everyone who came out to the event on August 18 to support Homeward Trails Animal Rescue.
---
Thanks Brown's Manassas for Sharing Hope & Warmth! - Jenny H
Novant Health was incredibly excited to welcome Brown's Manassas Subaru to their hospital on Friday, July 20th. It was going to be Brown's Manassas third time delivering blankets at Novant Health, but the first time delivering in their brand new space. This space had been under construction in past years that Brown's Manassas had delivered blankets to patients. After taking a group photo, Kelly Persons, Director of the hospital foundation, gave the Brown's Manassas Subaru team a tour. We started out in the new lobby and Kelly explained that not only was the new lobby more visually appealing but it also provided much more privacy and comfort for patients. Kelly then took the group to the reflection room and new healing garden, explaining how important having a calming space like that is for patients. Towards the end of the tour, they took us back to the in-patient infusion unit, where Kelly shared that many patients come there to get great use out of the donated blankets from Subaru. One of the nurses on the unit mentioned that being able to provide that little bit of extra warmth to patients goes a really long way. The Brown's Manassas Subaru team really showed how much they love to care about patients in their own backyard.
---
Brown's Manassas Subaru and Cougar Elementary - Patrick H
Brown's Manassas Subaru has collaborated with Cougar Elementary since 2014 to help students reach their highest potential. Cougar Elementary is a Title 1 school in Manassas Park, Virginia with a devoted staff that is challenged by limited resources. Title 1 schools cater specifically to children from low-income families to help ensure that all children meet challenging academic standards. Brown's Manassas Subaru sponsors an annual book drive and color walk, which is the school's largest fundraiser. The color walk helps to raise funds to kick off the academic year. The holidays can be a difficult time for many families and we embrace the opportunity to spread love and holiday cheer throughout the community. Last year, we volunteered to supply and serve hot chocolate and snacks to student and staff carolers who ended their tour at the home of a student recently diagnosed with cancer. The family was happy to report as of September 2017 that he is doing great – a recent physical indicated his height, weight and health were normal compared to other children his age! Each year, the school holds a fundraiser to ensure every student receives a gift for the holidays. It is with this spirit that Brown's Manassas Subaru has been so happy to contribute for the last three years. We are also extremely grateful to the wonderful faculty and staff. In 2015 we provided holiday coffee mugs filled with Starbucks gift cards, chocolates and candy canes. Last year, we did matching shirts for everyone to wear throughout the year. This year, after discussing with the Principal, we are going to deliver Tumblers packed with goodies to each team member of Cougar Elementary. We must remember and appreciate the commitment, love and compassion that they give their students each and every day. Teachers in Title 1 schools are often forgotten and do not receive the praise and gratitude they deserve. Each year Brown's Manassas Subaru shows support and reminds the staff how valued they are by providing delicious desserts and beverages for the Teacher Appreciation Luncheon. This year we are pleased to sponsor the Cougar Elementary Bucket Filler of the Month program that spotlights a teacher who consistently shares his or her devotion with students and fellow team members. There is a trophy display in the main office and each month Brown's Manassas Subaru will present a Bucket Filler of the Month trophy with a staff member's name, along with a gift card to show our appreciation. Brown's Manassas Subaru is extremely proud to be a part of the Cougar Elementary family and their mission to educate, inspire and encourage the students to strive for a successful future! This is the very least we could do to give back to our community.
---
Cougar Elementary and Brown's Manassas Subaru - Patrick H
We've continued our wonderful partnership with Cougar Elementary. We spread some holiday cheer this year by providing and serving hot chocolate and snacks to the students and staff one evening as they set out for a night of caroling on their way to a student's house who was battling cancer. It was certainly a memorable experience to be a part of such a special evening. Along with our donation for the students of Cougar Elementary, our gift for the faculty and staff was shirts for everyone so they would all match for various events throughout the year. For Teacher Appreciation week this year, we again provided the dessert and drinks for their luncheon and we had a great opportunity to spend some quality time in a few classroom. During this year's Subaru Loves the Earth campaign, we were able to team up with the Pre-K students to really get a nice garden growing. It was wonderful to introduce such an important part of our lives to them. We look forward to the upcoming year and continuing our Love Promise with the Cougar Elementary family!
---
Older American Picnic | Brown's Manassas Subaru - Patrick H
Brown's Manassas Subaru decided to show our love for the older members of our community by participating in the Prince William Area Agency on Aging "Older American Picnic" held locally. It was great to see everyone with their Brown's Manassas Subaru tote bags as they enjoyed a day of fun, good food and entertainment. After being approached on the showroom floor by one of our guests during our Subaru Loves the Earth initiative, and discussing our partnership with Cougar Elementary, we felt compelled to encompass all ages in our Love Promise so we started looking into ways to support our adult community along with our children. After all, everyone loves spending time in their gardens! Furthermore we felt it was important to show our love to the Literacy Volunteers of America – Prince William as Platinum Sponsors of their Food for Thought Dinner and Trivia night. They do great work locally to promote literacy within the adult community and we're honored to be affiliated with such a wonderful and necessary initiative. Brown's Manassas Subaru was proud to be a Platinum Sponsor for the second year in a row and show support for adult literacy at the Prince William Food For Thought dinner and trivia night. In the photo from left to right is George Kerr, Board Secretary, along with Manassas Subaru team Meredith Eden, Tracy and James Turner, Eric and Nicole Demby.
---
Brown's Manassas Subaru Loves to Care! - Jenny H
On July 10th, Honored Hero and Peripheral T-Cell Lymphoma survivor, Rich Zavadowski welcomed Patrick Hall and Saugata Mukherjee of Brown's Manassas Subaru at Novant Health UVA Health System. As Novant nurses picked up a few blankets from the 80 delivered that day (along with 10 arts and craft kits, and dozens of messages of hope for patients), they commented on how soft and warm they felt, and how excited they were to be able to give these to patients as they received treatment. Kelly Persons, director of Novant Health's foundation, shared with Patrick and Saugata how appreciative the patients would be for the blankets. She later told us that, "It will be so meaningful to our cancer patients to know that they are thought of by the folks in our local Subaru dealerships. Through the Subaru Loves to Care donations, our cancer patients at Novant Health UVA Health System are being cheered on, with blankets and care kits, during their journey to good health!" Rich echoed similar thoughts and told us that the value of a blanket is so important to patients for many reasons. He told us that not only do the blankets help patients stay warm, but also give them hope. They let patients know that people in the community truly care about them and their health.
---
Subaru and NWF Love the Earth! - Cherie W
The VPI Preschool garden has brought so much excitement to our students. They have been observing how plants start out as seeds and grow with the help of soil, water, and sun! It has been a wonderful hands-on experience to bring life into our playground. The students helped with digging, planting, watering and even saying kind and encouraging words to take care of our plants. Overall, the whole process has been a memorable and continual hands-on learning experience that has been enjoyed by all!
---
LLS Donation - Nicole S
On July 10th, as part of Subaru Loves to Care Initiative, Brown's Manassas Subaru will be donating 80 blankets to Novant Health. Please stop by the dealership and show your support!
---
Project Hero - Nicole S
On May 30, Brown's Manassas Subaru had the pleasure to be a part of Project Hero - a program committed to helping to improve the physical and mental well-being of injured veterans by offering rehabilitation through cycling. They were grateful for the opportunity to provide lunch for all of the riders as they rode through Manassas as part of their 400 mile challenge from Washington DC to Virginia Beach. In addition to our veterans (who we thank once again for their service for our country), they had appearances by Congress woman Barbara Comstock, Joe Koch from Wanada, the Vice Mayor of the City of Manassas, Councilman Marc Aveni, in addition to the Brown's CEO, Danny Legge. It was a wonderful event and a true highlight of the 2017 year. They were so thrilled to have had a chance to be a part of it.
---
Brown's Manassas Subaru Loves Cougar Elementary - Patrick H
We must recognize the importance of investing in tomorrow, today. This is exactly why Brown's Manassas Subaru has partnered with our local Title I School, Cougar Elementary in Manassas Park, VA. What started with a $250 holiday gift card years ago, to ensure every student had a gift under the tree, has blossomed into our Subaru Love Promise. We recognize the importance of nurturing our community through the educational development of our youth. Over the past few years, we have committed our love to the students and staff of Cougar Elementary. In addition to our holiday donations, we have continued to work closely with Cougar Elementary throughout the year in various ways. Last September, we proudly sponsored the annual Cougar Color Walk which serves as the school's main fall fundraiser. This past holiday season we spread a little cheer and presented the entire Cougar Elementary staff with mugs filled with chocolates, candies, and Starbucks gift cards. During February and March, we held a book drive and donated a wide variety of books to the school library. We also participated in the Cougar Elementary Teacher Appreciation Week by supplying chips and soda for their luncheon. Additionally, we sent all of the Administrative Staff to a local restaurant for lunch! We enjoy fulfilling our Subaru Love Promise with Cougar Elementary and will continue to do what we can to positively impact our community!
---
Marshall PTO Family Bingo Basket Night Fundraiser - Molly K
Thank you Brown's Manassas Subaru for sponsoring Marshall PTO Family Bingo Basket Night. This annual event on March 11, 2016 is a fun-filled night for all families in our community. All proceeds from this event will further enhance technology within the school, buy software subscriptions for all students, provide continued upgrades to our advanced curriculum, and "Bridge the Gap" in operating expenses not covered by state funding.
---
Subaru Loves Learning Book Drive August 1 - 31 - Danielle S
Join us in our Subaru Loves Learning initiative during the month of August! We are partnering with the American Association for the Advancement of Science (AAAS) in donating science books to Cougar Elementary School in the Manassas Park City School District. All of the books that will be donated have been recognized by AAAS as some of the best science books in their field. Contact us to learn more information.
---
Subaru Loves the Earth - E-Waste Event - Danielle S
We would like to thank our customers for participating in our E Waste Recycling event during the month of April. With your help, we were able to prevent 2,090 lbs of carbon emissions from polluting the atmosphere. This is equivalent to saving 81 trees, 356 gallons of gasoline, 3,030 plastic bottles, and 13,936 aluminum cans. Thank you for helping strengthen the Subaru Love Promise!
---
April 1-30, 2015 E-Waste Recycling Event - Molly M
Throughout the month of April, we are hosting an E-Waste Recycling Event in our store to collect unwanted electronics. We've arranged to work with a company who will responsibly collect, re-purpose, and recycle your electronic waste. Help us protect our environment. Just show up with your E-Waste and we'll do the rest! The first 50 customers who contribute will receive a complimentary environmental badge of ownership. We will accept: LCD Monitors, Cell Phones, Laptops, Tablets, CRTs up to 40, Video Games/Consoles, Fax Machines, DVD/VCR Players, Printers, Computer Peripherals, Switches/Routers, Cords and Wires.
---
1st Annual Adoption Event "Adopt with Love" - Nancy T
Brown's Manassas Subaru had an overwhelming amount of support on Saturday May 25th, 2013 at the Subaru Adopt With Love Event! We helped to raise almost $3,000 for the two animal rescues, Ambassador Pit Bull Rescue and Homeless Animals Rescue Team. We received 300 pounds of dog food donations which went to each rescue group. Both rescues received numerous applications for adoptions as well. Many animals are now being adopted from the event!
---
Joshua's Hope Inc., Zombie Fun Run & 5K - Sara L
Brown's Manassas Subaru sponsored the 1st annual Joshua's Hope Inc., Zombie Fun Run & 5K. Joshua's Hope Inc. (JHI) provides direct support to families with children living with Duchenne Muscular Dystrophy. Duchenne Muscular Dystrophy (DMD) is a genetic disorder characterized by progressive muscle degeneration and weakness and many children with DMD begin using a wheelchair sometime between the ages of 7 and 12 years. DMD affects approximately 1 in every 3,500 to 6,000 male births each year in the United States. Joshua's Hope, Inc. provides support to families who have been affected by this disease and aids in purchasing equipment (power wheelchairs, handicap accessible vans, track systems, ramps) and supplies giving youth living with Duchenne access and mobility to their everyday environment.
---
2nd Annual Logan Phoenix Golf Open - James S
Brown's Manassas Subaru sponsored the Logan Phoenix Golf Open which is an annual event put on by James and Mary Stone in memory of their son, Logan Phoenix. All proceeds go to the Children's Miracle Network (CMN) hospitals in the greater DC area. Funds go towards anything from routine doctor checkups, to the purchase of preemie diapers, to caring for children with terminal illnesses in our immediate area. In 2013, over $7,000 was raised for CMN by this Golf Open. All funds raised go to our local Children's Miracle Network Hospital, Children's National Medical Center to help local kids - www.childrensnational.org/give
---